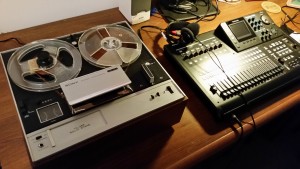 I've finally started on what hopefully will be a very nice digital "library" of old and rare sermon recordings. I say finally, because I've spent quite a lot of time and a bit of money trying to get an appropriate reel to reel tape deck to play the rare tapes that are presently in my possession. Two tape decks and a lot of frustration later, I have the first sermon posted on the Presbyterian Reformed Church website. It's by Professor John Murray, and it was preached in 1959 at the Old Christian Reformed Church in Grand Rapids.
I haven't looked through all of them yet, but there are sermons from Dr. David Freeman and Dr. William Young in this collection along with Professor Murray and a number of others as well. This is priceless stuff!
The audio quality isn't as good as I'd hoped, and some of it is not the fault of the old tape or the recording itself. Some of the noise is coming from the ancient tape deck I'm using for playback. I hope to get another one in the near future that is in better working condition and that should really help the quality of the digital recording.
Anyway, here's a link to the first installment: